Globally, the incidence of sports injuries has increased over the last few years, primarily due to the growing participation in sports as well as active participation in fitness activities (as a result of the growing focus on leading healthy lifestyles).
According to Stanford Children's Health, approximately 30 million adolescents and children in the US participate in sports annually, and more than 3.5 million sports injuries are reported each year. According to the Board of Certification for Athletic Trainers, an estimated 2 million acute ankle injuries occur annually in the US.
The incidence of ligament tears and fractures is high among people participating in sports. Also, the lower extremity constitutes a major portion of sports injuries, globally. With the increasing participation in sports (among children as well as adults) and subsequent growth in the incidence of sports injuries, the demand for injury management and rehabilitation is expected to increase across the globe. This is considered a positive indicator of the growth of the sports medicine market. 
Download PDF Brochure @ https://www.marketsandmarkets.com/pdfdownloadNew.asp?id=751
The major restraining factor for the growth of sports medicine market is high cost of implants. The cost of these implants is a major concern for market growth in countries such as India, where only a small section of the population is under insurance coverage (according to the IRDA, in 2017, 76% of the Indian population was uninsured). With an overall average cost of more than USD 12,000 in developing countries, affording such a costly treatment is still a big challenge for most of the population.
Similar to implants and prosthetics, regenerative medicine procedures are also expensive. For instance, the cost of a single PRP injection typically ranges from USD 500–2,000, whereas the cost of bone marrow stem cell injections ranges from USD 2,000–5,000 or more. Such therapeutic procedures often require more than one treatment, thus raising their overall cost.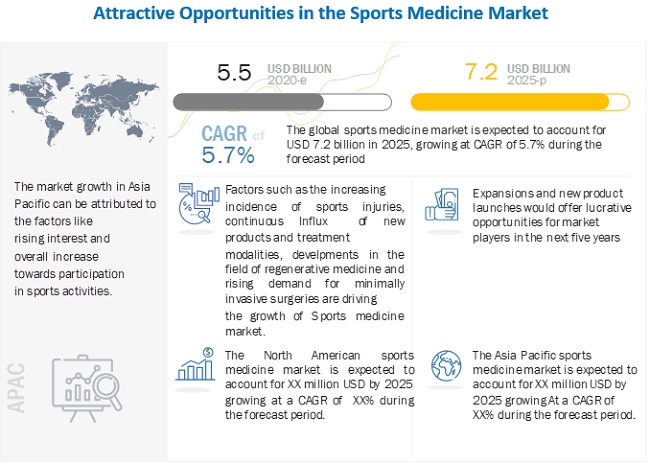 The COVID-19 outbreak has upended many lives and businesses on an unprecedented scale. Due to the pandemic, most organized sports activities have been on hold or postponed. In March 2020, the International Olympic Committee postponed the 2020 Tokyo Olympics and Paralympic to 2021. Such developments are expected to significantly affect the growth of the sports medicine market in the coming months. 
According to The CovidSurg Collaborative, a 120-country research initiative formed to analyze the impact of the COVID- 19 pandemic on surgeries, around 28.4 million elective surgeries worldwide will be canceled or postponed in 2020, based on 12 weeks of peak disruption to hospital services due to COVID-19. This collaborative has also estimated that orthopedic procedures will be the most frequently canceled procedures, with 6.3 million orthopedic surgeries canceled worldwide over 12 weeks. 
The sports medicine market is expected to grow from USD 5.5 billion in 2020 to USD 7.2 billion by 2025, at a CAGR of 5.7% during the forecast period. Growth in the sports medicine market is primarily driven by factors such the increasing incidences of sports injuries, continuous influx of new products treatment modalities, developments in the field of regenerative medicine, rising demand for minimally invasive surgeries. 
Request To Get Free Sample Pages @ https://www.marketsandmarkets.com/requestsampleNew.asp?id=751
One of the major challenges for the sports medicine market is the lack of trained orthopedic professionals as orthopedic surgeons carry out most of the procedures for various sports injuries. According to a new report by the Association of American Medical Colleges (AAMC), published in April 2018, there will be a shortage of between 20,700 and 30,500 physicians for surgical specialties in the US by 2030.
In the sports medicine field, there is an increasing need for trained professionals with the relevant experience and knowledge about using orthobiologics and performing specific surgeries. Sports medicine surgeons provide diagnosis and treatment for musculoskeletal injuries and related disorders that are caused during sports activities. 
Sports medicine is widely used for the prevention of sports injuries as well as for the cure, recovery, and rehabilitation of athletes. The sports medicine applications market is segmented into knee injuries, shoulder injuries, foot ankle, elbow wrist, back spine, hip groin, and other injuries. The knee injuries segment held the largest share of the market in 2019, a trend that is expected to continue during the forecast period. 
The major vendors in the global sports medicine market include Arthrex, Inc (US), Smith Nephew plc (UK), Stryker Corporation (US), Breg Inc. (US), DJO Global, Inc. (US), Mueller Sports, Inc. (US), Wright Medical Group N.V. (US), Medtronic (Ireland), RTI Surgical (US), Performance Health International Limited (US), KARL STORZ (Germany), and Bauerfeind AG (US), Össur (Iceland), MedShape (US), Cramer Products (US),  Biotek ( India), RôG Sports Medicine (US).